Softball-Driven Health and Wellness Consortium (HAWC) Announced to Combat Teen Suicide
Since a standout young athlete from Southern California took her life one month ago today, two other athletes in the area have also committed suicide. A group of top fastpitch influencers have united to create a national and local plan to stem the tragic tide of youth suicides including those in sports.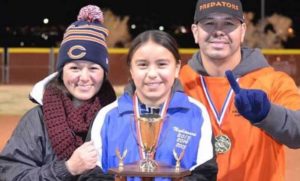 Southern California, February 22, 2018 – A month to the day since the body of 13-year-old
Emma Pangelinan of the OC Batbusters organization was found at a park in Mission Viejo,
California and ruled a suicide, a collection of the top influencers in softball have announced the
formation of the Health and Wellness Consortium (HAWC) to help develop national and local
strategies to increase awareness of health and wellness education for players, parents and
coaches.
Mike Stith, leader of the OC Batbusters organization, is collaborating with the softball
community to create long term change in health and wellness for our softball community.
"This tragedy will be the impetus for change. We are coming together with a common goal of
raising the standards in the areas of health and wellness for our families to better enjoy their
softball experience."
"We have come together in the last month to identify, develop and execute a strategy to help
solve the growing trend of teen depression and perfectionism," stated Sue Enquist, former
UCLA Softball Coach and founder of ONE Softball, who is also working with notable figures in
the sport.
These significant contributors include Jen Schroeder of The Packaged Deal; Tony Rico of the
Firecrackers organization, Stith and Tim Shockey with the OC Batbusters as well as Dr. Casey
Cooper, a subject matter expert in counseling youth and Dr. Suzy McNulty, a Pediatrician.
Dr. McNulty, who is also a softball coach with two daughters who play softball, notes that
"There is an important message we need to share regarding developing our student-athletes'
self worth: 'Perfection is not only not attainable, but dangerous. Perfection should not be the
goal; rather, their personal best.'"
The Health and Wellness Consortium has also confirmed interest and support from local USA
Softball influencers and will reach out to all associations for their support.
One of those important governing bodies is Premier Girls Fastpitch (PGF) and its President, Dan
Hay, says: ""I hope all associations will participate in this collaborative group. PGF is committed
to our mission to provide relevant and accurate information to all families in health and
wellness."
Tim Shockey with the Batbusters says, "Emma's situation has ignited a firestorm in a positive
direction," and Tony Rico adds, "The Firecrackers welcome this opportunity to work with other
influencers to meet the demand of increasing awareness and educating our families and
coaches about this very important issue."
"It is our mission to improve the overall experience for the softball player and her family," says
Schroeder, who works with young athletes nationwide. "We are working hard to develop
actionable solutions, supported by education."
The HAWC will work with all national associations, medical experts, administrators, coaches and
players. The leaders of the Health and Wellness Consortium say they will have a long-term
strategy with a multi-phased roll-out.
The Health and Wellness Consortium has revealed a four-step action plan:
1. Identify relevant and accurate education,
2. Provide a standardized framework for local communities to disseminate information,
3. Develop a national calendar to tackle this multi-faceted issue through local events and online
education services,
4. Educate the coaches and empower the players and parents to create the change on the local
level.
It's all critical, according to the HAWC leaders, that the information needs to be free to all
families.
Teen suicide has become a nationwide epidemic and in Emma Pangelinan's home area, Orange
County, the American Academy of Pediatrics—one of the organizations the HAWC will work
with frequently–announced this month that suicide is the second leading cause of death for
young people ages 10 -24.
According to Licensed Sports Psychologist, Casey Cooper, Ph.D., "The most recent data suggests
40 percent of youth identify as perfectionists and is a newly emerging risk factor when
assessing for suicidal thoughts and behavior. Given the intensely competitive culture of
athletics, it is critical to the safety of our adolescent athletes that we actively seek new ways to
cultivate a culture of excellence for our parent and coaches."
Tragically, this wasn't just an isolated incident specific to the sport of softball.
Since Emma Pangelinan's death a month ago, there have been two additional teen suicides
committed by well-known athletes in Orange County. In addition, there was a fourth suicide by
a football player at a well-known university from Orange County just prior to Emma's suicide.
The focus of the HAWC, according to its leaders, is to have it serve as a tool for everyone to use.
It will be important to provide this information and strategies to implement the education for
all families, free of charge.
— Brentt Eads (Extra Inning Softball)