Every season begins with a vision. Successful coaches provide a road map guiding their team from opening practice to a final destination within that vision. What drives the process lies in one of the top buzzwords in sport: team culture. Defining team culture is difficult because it's tough to measure scientifically.
Culture is a feeling, a representation of the way you do things, and the atmosphere you practice and compete in. Creating a strong team culture largely determines success, which in youth sport is best defined by things you control such as positive attitude, full effort, and the pursuit of process driven goals.
The best coaches begin by recognizing culture rarely happens by accident. It is an intentional and collaborative process that begins by asking yourself, your other coaches, and most importantly your players, to identify values, attitudes, beliefs, and why what your team does is meaningful. Having an initial, open discussion lays the groundwork of culture establishment, and also tells you more about who your players are as individuals (what makes them unique, what is important to them etc.), and what their dynamic is with each other.
So what makes the road map easy to follow and the vision crystal clear? Take a look at the infographic and identify the steps to move toward great culture creation on your team.
Developing a strong culture by design takes time, commitment and patience. Sustaining it takes consistency, focus and clear communication. Your opening discussion must lead to follow up activity and conversation! If the culture you establish creates an environment of mutual respect and equality, it will be easy for your players to be themselves. Let go and give players ownership to make decisions, be creative, and grow through the process. Listening and giving value to your team's feedback will show them you care, and make them an active part of the strong culture they are now a part of.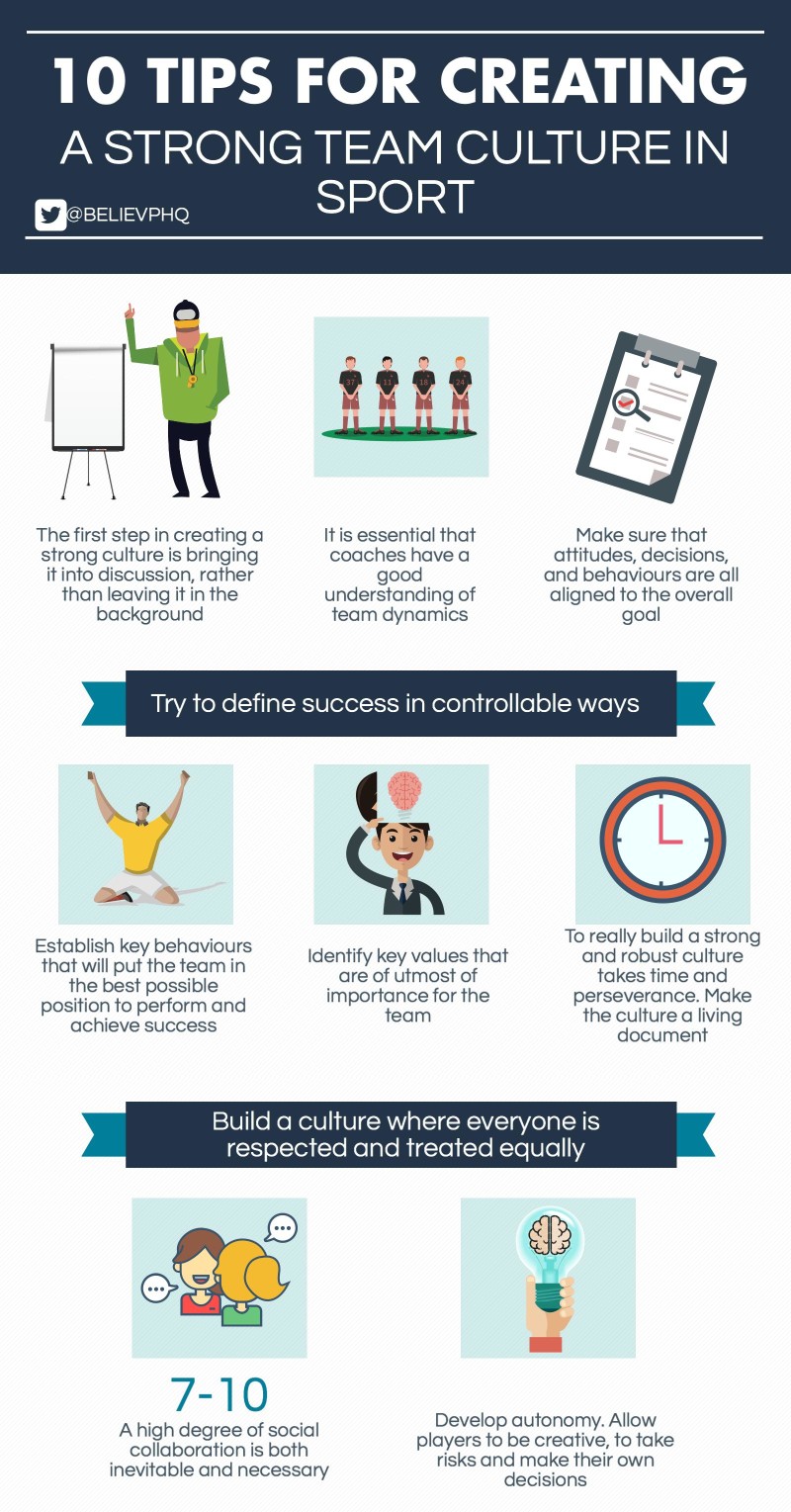 Infographics used with permission of the BelievePerform Shop.